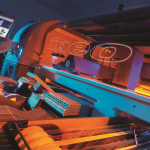 Investment in capability continues at Norcott……
Norcott installs second brand new Europlacer iineo-1 surface mount placement machine.
As a company that operates in the high technology, value added 'contract electronics manufacturing' (CEM) market, it is of paramount importance that we can provide our customers with a facility that is capable of supporting high complexity surface mount technology builds encompassing the latest components.
The iineo-1 machine was seen as the right solution for us so that we could increase our output and further enhance our ability to place the latest components – from 01005 to odd shaped connectors and we introduced our first machine in 2014.
The iineo-1 machine is the flagship of Europlacers product range and has won several awards as one of the most flexible machines on the market. With a feeder capacity of 264 x 8mm feeders, placement speeds to approximately 15,000 cph, capability from 01005 through to 50 x 50mm and for devices as high as 35mm tall, the Europlacer iineo-1 has been accepted widely within the UK and Global market as one of the best machines for small to medium batch flexibility.
The new Europlacer iineo-1 will be accompanied by a brand new Speedprint SP710 inline screen printer and TSM A70-82 Reflow Oven.
Combined with automatic handling for loading and unloading, this will give Norcott a very quick and flexible surface mount line to complement our existing surface mount capability in both technology and capacity.
This latest upgrade means that Norcott now has 3 high tech independent SMT placement lines to cover everything from prototype builds to regular production requirements.