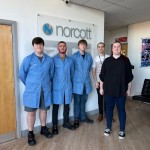 Norcott help to secure a future for Apprentices
Here at Norcott, we pride ourselves in investing in current and new members of our team. As well as keeping up to date with all the latest training and development opportunities for our staff, we have an outstanding relationship with Riverside and Cronton College who have assisted us with the appointment of multiple apprentices over the years. All previous apprentices have passed their courses successfully and have gone on to secure a future in their chosen profession thanks to the help and guidance from both their college and colleagues at Norcott. We strongly believe in helping people to grow their careers and life skills and we love to see people grow both professionally and personally. Taking on apprentices allows for fresh ideas and a different outlook to be demonstrated which is always a positive for a business who is persistently looking to grow.
Jake left school and started an engineering course with Riverside college. His name was put forward by his tutor to apply for an apprenticeship here and he has continued to progress since. In his first couple of years at Norcott he attended Cronton college one day a week to gain support from his tutors and worked the other four days. Jakes tutors regularly visited our site to ensure he was gaining the support throughout his course while also seeing how his placement was getting along. Jake finished his two year course and decided to focus his time on growing his career here at Norcott rather than continuing onto another course and is now a team leader of Surface Mount Technology (SMT).
Aaron currently works on site as a Software Engineer, he started as an apprentice infrastructure Technician completing his level three qualification with Riverside. During his Apprenticeship Aaron focused on managing servers and IT Equipment but was able to carry out some programming projects such as creating our very own staff and visitor clocking system. This gave Aaron an opening to gain experience in the specific field of Software Engineering and develop enough skills to progress further to a higher-level qualification. Norcott is now supporting Aaron to do a Degree Apprenticeship at Manchester Met University in Digital and Technology Solutions.
Natasha started as a test apprentice back in July 2014. She was completing a level two in Performing Manufacturing Operations course and then completed her level three spending time in work and college. She finished her apprenticeship in 2018 and continued to work at Norcott as a junior test engineer which involved testing customer products, diagnosis, and repairs. Natasha later moved to working with the quality team as a Trainee Quality Engineer.
We currently have two Apprentices who started here with us in January. Lewis is an Engineering Apprentice and Nathan is a Test Apprentice. Both are with Riverside college and benefit from having guidance from both colleagues at work and Tutors in college. They attend college once a week and can apply their knowledge they learn to their work. Nathans role consists of testing boards ensuring they pass the necessary stages and diagnosing faults on boards. Nathan also repairs boards and builds new test equipment. Lewis is learning how to carry out the maintenance on all our high-tech surface mount placement machines and is responsible for organising this with SMT to ensure production is not slowed down. He is also shadowing another member of staff who is a process engineer. Choosing an Apprenticeship helps "to gain experience and qualifications in something you are interested in" and is a perfect stepping stone to a successful career.