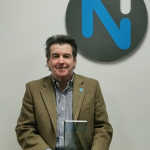 Norcott's Managing Director presented with the Founders Award
The founder's award is presented annually for "distinguished services to the institution of Engineering Designers" and has this year been awarded to Pete Lomas. Pete is extremely passionate when it comes to all aspects of engineering and is a very worthy recipient of this award. Pete not only takes on the role of Managing Director here at Norcott, but he also spent 10 years as a Trustee of the Raspberry Pi Charitable Foundation and in 2018 accepted his role as President of the Institution of Engineering Designers.
Pete commented:
"It is hugely important that we continue to actively promote all aspects of engineering across the breadth of the discipline. For children just starting to think about their career we need to demonstrate that engineering can be rewarding and also fun. The old mantra "if you can not see it, you cannot be it" has never been more relevant as we compete against a plethora of other career choices."
"Equally we need to provide support for students and graduates that have already chosen or considering engineering as a career path. As the premium intuition supporting all aspects of engineering design, I was very honoured to be asked to take on the role as president"
Throughout his extensive career, Pete has focused on helping others to gain knowledge in the engineering field. Pete has given many lectures to students in universities in the hope to inspire and encourage them to pursue a career in engineering. He has also played a major part in helping school children to learn about programming and computer skills through the Raspberry Pi foundation.
Libby Meyrick, Chief Executive of Engineering Designers commented:
"Pete has served in the role of our Honorary president since 2018 when he took over from Maggie Philbin OBE. During his tenure, which of course included two years of a global pandemic, Pete has whole-heartedly supported and promoted the IED at events, invigorating our social media presence, offering guidance and leadership, representing the IED at events, discussions and meetings. Pete has been a hands-on president who has brought immense benefit to the institution through his work for us and it has been a pleasure to work with him over the past four years. He is a worthy recipient of this award for 2022."
Here at Norcott our clients have access to an extremely talented design team operating under Pete's direction. We have been fortunate to be able to offer their specialised skill set to our clients. Working closely with our clients means we can assist them in solving complex electronic design issues giving them a competitive edge in the marketplace and world class products. Working alongside our impressive manufacturing facility, Norcott can help take a product concept from an idea, through prototyping, certification and into production.  In short bringing ideas to life.