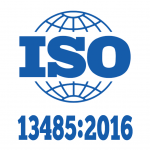 Norcott looking to add ISO13485:2016 'Medical Certification' to its impressive list of approvals….
Following on from successfully securing AS9100:2008 in 2014 and meeting the Bronze Standard for SC21, Norcott is now looking to add the ISO13485:2016 approval to its portfolio.
"ISO 13485:2016 specifies requirements for a quality management system where an organization needs to demonstrate its ability to provide medical devices and related services that consistently meet customer and applicable regulatory requirements. Such organizations can be involved in one or more stages of the life-cycle, including design and development, production, storage and distribution, installation, or servicing of a medical device and design and development or provision of associated activities (e.g. technical support). ISO 13485:2016 can also be used by suppliers or external parties that provide product, including quality management system-related services to such organizations"
MD – Russ Magee comments…
"That's why we invest constantly to maintain and improve our working practices and quality standards. After all, the most important standard we have to meet is the standard set by our customers.
Ensuring that all board assemblies, electromechanical assemblies and box build products are manufactured by people with the appropriate skills base is the most important step in delivering Excellence in Manufacture.
Our full-time, qualified J-STD-001 IPC Certified trainer ensures that manufacturing staff all receive on-going training to the IPC-A-610 Class 3 standard for electronics assembly. Each person has their own 'skills matrix' to record and foster the development of their competencies"