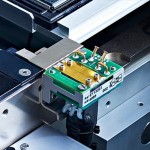 Don't just Test – Measure
As part of Norcott's desire to improve the reliability of what we build for our customers (especially aerospace and medical), we made sure our new SMT Europlacer Iineo machines have the capability to do dynamic component testing – that's where devices are tested 'on-the-fly' after picking from the reel but before placement on the board.  Without measurement, it could be any component which serves little purpose in process refinement and none in traceability.
However good our quality systems and inventory control is, it is still conceivable that a reel may contain the wrong components. So, without measuring to eliminate this risk, components of an incorrect value would get through.
So, we opted for machines that don't just test…they measure as well.
Each machine has a built in electrical inductance-capacitance-resistance (LCR) test-bridge that can measure components on-the-fly immediately after picking. The test-bridge goes the extra mile to deliver the ultimate measurement accuracy too: it is 4-wire kelvin connected to eliminate its own electrical contact and conductor path resistance, and is agile enough to measure twice during its brief test cycle.
This dynamic measurement during placement effectively gives us two test strategies. We can test every component on a reel, or define an AQL test at the start of a reel to validate the reels integrity. Each will benefit yields and provide meaningful statistics and traceability data.