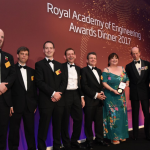 Norcott's Director of Engineering and Raspberry Pi Team receive prestigious MacRobert Award….
His Royal Highness the Duke of Kent last night presented the UK's top engineering innovation prize – the Royal Academy of Engineering MacRobert Award – to the team of engineers behind Raspberry Pi, the small but mighty microcomputer that has revolutionised control systems and redefined how people engage with coding.
Known for spotting the 'next big thing', the annual MacRobert Award is presented to the engineers behind the UK engineering profession's most exciting innovation. The winners receive both a gold medal and a £50,000 prize at the Academy Awards Dinner, hosted this year at the Landmark London Hotel.
The winning team members are: Dr Eben Upton CBE, CEO; James Adams, COO; Pete Lomas, Director of Engineering, Norcott Technologies; Dom Cobley, Senior Principal Software Engineer; Gordon Hollingworth, Director of Engineering; Liz Upton, Director of Communications.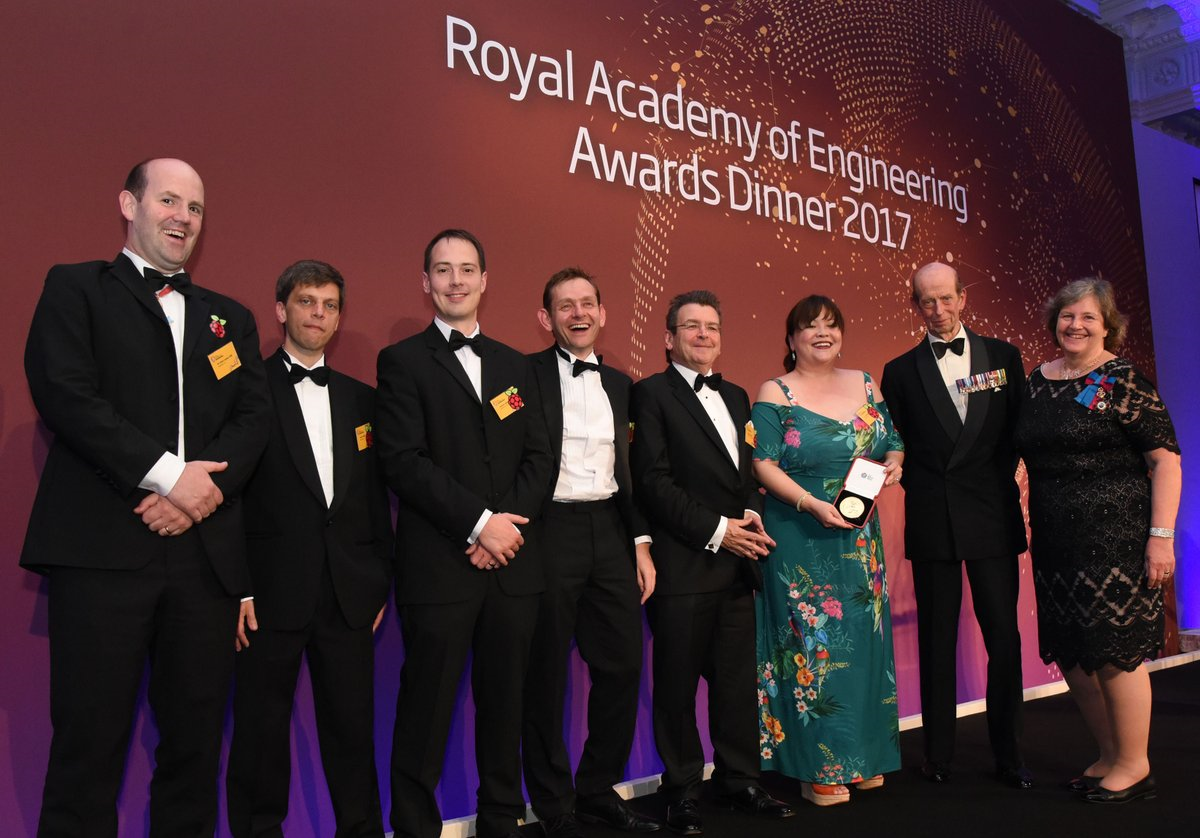 The Raspberry Pi team with HRH the Duke of Kent and Professor Dame Ann Dowling OM DBE FREng FRS, President of the Royal Academy of Engineering.
The MacRobert Award, run by the Royal Academy of Engineering and supported by the Worshipful Company of Engineers, has recognised many technologies that have since become ubiquitous, such as the catalytic convertor and the CT scanner, whose inventor Sir Godfrey Hounsfield won the MacRobert Award in 1972, seven years before he received the Nobel Prize.
MacRobert Award winners are chosen by a panel comprising of, some of the most experienced names in UK engineering, who are all Fellows of the Academy.
Dr Dame Sue Ion DBE FREng FRS, Chair of the MacRobert Award judging panel, said:
"All three of this year's finalists demonstrate exceptional engineering, but what sets Raspberry Pi apart is the sheer quality of the innovation, which has allowed the computer to be used far beyond its original purpose. By blending old and new technology with innovative systems engineering and circuit board design, the team has created a computer that is cheap, robust, small and flexible. It is manufactured in the UK cheaper and at higher quality than elsewhere. Raspberry Pi's original educational goal has actually resulted in a computer control system that can influence many different industries."
MacRobert Award Judge Dr Frances Saunders CB FREng said:
"The Raspberry Pi team has achieved something that mainstream multinational computer companies and leading processing chip designers not only failed to do, but failed even to spot a need for. With a team of engineers numbering in the tens, not hundreds or thousands, Raspberry Pi has redefined home computing for many thousands of people across the world, even taking 1% of the global PC market. Their refusal to compromise on quality, price point or functionality has resulted in a highly innovative design that has taken the education and maker market by storm, and they have created a world-beating business in the process."
We caught up with Pete on his return from the awards ceremony:
"I'm extremely humbled and honoured to receive this prestigious award for Raspberry Pi. As many will know I've been involved in this project for almost 10 years now, from when it was a modest educational project at Cambridge University with the aim to stem the decline in applications for Computer Science."
The arrival of closed 'gaming platforms' and the commercial personal computer led to an abrupt decline of accessible computing platforms that fostered curiosity, experimentation and innovation in the young . We absolutely wanted to reverse that if we could.
However, the majority of the computing power today is hidden in everyday objects. It enhances their functionality, simplifies their design and reduces costs and with internet connectivity opens up a multitude of opportunities and unfortunately threats.
We desperately need more engineers in these fields who have the skills to benefit the UK and global economies. This was a key reason that a plethora of interfaces were added to the design. Children now not only print "Hello World" on the screen they flash LEDs using code, drive motors and interact with a wide variety of sensors.
I'm particularly passionate about this "digital making" capability as it encapsulates what the design team here at Norcott do.
We take client brief, the concept/idea, and turn this into a viable product design. At the same time we take a holistic view of the process encompassing not just design but, manufacturing process, scalability, serviceability, end of life, compliance and importantly cost-point.
We work closely with our clients to hone the feature set, optimise the design for efficient manufacture, and develop effective test and repair strategies.
We are always looking for ways to enhance and innovate, so that we keep our clients at the forefront of their technical field.
This parallels the work we did on Raspberry Pi to achieve the first product back in 2012, we could have used a highly complex PCB structure and the layout could have been done in a few weeks, but the $35 cost point would have been unreachable"