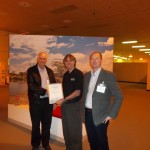 Ricoh Rewards Our Ethical Supply Chain

Ricoh, the Japanese manufacturer known for its world-class quality standards, has given official recognition to our ethical supply chain.
The company, which has been a customer of Norcott for a number of years, demands that all its suppliers meet extremely rigorous ethical standards, ruling out the use of so-called 'conflict minerals' and specific chemicals in particular.
Following detailed analysis and auditing, plus a number of on-site inspections, we are proud to have received an official stamp of approval from Ricoh.
Russ Magee, Managing Director, said: "Norcott has always been committed to ensuring an ethical supply chain. Given the number of suppliers we deal with, and the number of suppliers there are to our suppliers, this is a significant undertaking. We are proud, however, to have passed Ricoh's extremely rigorous audit. It sends a clear message about the high standards we set and maintain here at Norcott."
About conflict minerals
In recent years the electronics industry has come under the microscope for its supply chain standards.
This is because many electronic devices require minerals which are mined in countries such as the Democratic Republic of Congo (DRC), which are subject to armed conflict and human rights abuses. It's thought that DRC is home to 65-80% of the world's coltan (columbite-tantalite) reserves, used in the manufacture of mobile phones.
Our Government, and many others, want to see the DRC's enormous mineral wealth brought under legitimate control as a source of revenue for the state and the local population, rather than traded by armed groups.
As such, a number of legislative and regulatory initiatives are in place to keep conflict minerals out of the industry supply chain. These typically require companies like ours to be able to prove that minerals are either not from conflict-affected areas or that their production and trade have 'not contributed to conflict financing and human rights abuses'.
Just the way we work
While it's a privilege to have received this recognition from Ricoh, our commitment to high ethical standards is just part of the way we work here at Norcott.
So as well as seeking to rule out 'conflict materials', we also conform to the European Union's regulation of Registration, Evaluation and Restriction of CHemicals (REACH), and maintain a BSI Kitemark compliance to demonstrate product quality to IPC-610 RevF.